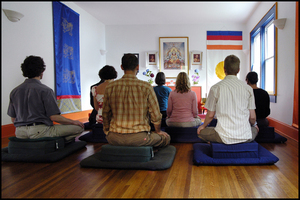 Meditation Practice
Please join us for our weekly community gathering at the Asheville Shambhala Center. Each Sunday we come together as a community to celebrate Shambhala vision with conversation, tea or coffee, and meditation. This offering is an opportunity for our current sangha to enjoy each others' company and to warmly welcome new people to our Center.

At 10:00, we will begin meditation. Meditation instruction will begin at this time for newcomers. We offer sitting meditation and walking meditation instruction.

Free. All welcome. Donations warmly appreciated.