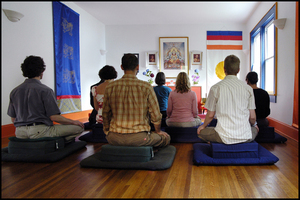 Mindfulness Meditation: Thursday Evening Meditation Practice
Everyone in the Shambhala community and their family and friends are welcome.Join us in the practice of sitting and walking mindfulness meditation from 7:00 to 7:45 p.m.

Open to everyone. No experience necessary.
Meditation instruction is available; please arrive 5 minutes before 7:00

Meditation practice is followed by tea, a dharma reading and conversation from 7:45 to 8:45 p.m.

Donations appreciated.